Some History – 4th Installment – Mid 70s to 1990
It is my intent that this installation will be my final history contribution, as it most likely will catch the readers up to their personal experiences in their own eras.  If you have missed any of the earlier installments, you can find them as follows:  1st Installment, 2nd Installment, 3rd Installment
In February 1976, I took a job with Portland General Electric to help start up and operate the first commercial nuclear power plant in the Northwest, the Trojan Nuclear Power Plant.  The plant was being built near Rainier, Oregon, which is located just across the Columbia River from Longview, Washington.
Gathering my courage and my young family, I moved from a small house sitting on 4 acres of pasture in Benton City to a mill town (St. Helens) in Oregon, located about 50 miles down the Columbia River from Portland, Oregon.  So started a journey in a new career and in a very new and strange part of the Columbia, of which I was totally unfamiliar.
I had sold my old well-worn aluminum Jon boat for the move, so now my only fishing option for the immediate future would be to go back to my fishing roots (wading).  Bass fishing wasn't really the highest priority on my list at the time of my move, so I didn't put a whole lot of concern into the whole bass fishing scene…just yet.
I arrived in St. Helens, settled us into a rental, established myself at work, and put a couple of young boys into their new school.  A few months later after life was settling down, I decided I would check out the Columbia River, located along the shore of my newly adopted city, for the possibility of some bass fishing.  Up to that point, I had never heard anything, and I mean anything about this part of the river.  I really didn't have a clue as to where to start.  Most of the people I worked with were also new to the area, so no help there.  Those that weren't new didn't fish for bass anyway, so no help there either, and you weren't about to read any bass fishing stories in the local newspaper.  Now remember, there was no internet, etc., so no outside assistance available, and I didn't know a soul in the community at this point.  The only thing I knew about fishing in this area was that it was all about hog lines (see below) and salmon, salmon, salmon.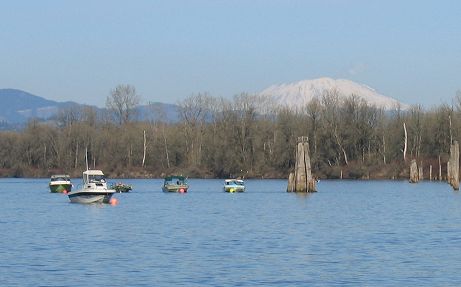 During my free time, I'd often drive around the local area looking for places where I could hunt for deer, elk, and grouse.  I'd also swing down around the river to see what was available for bass-looking stuff.  There were some really neat looking sloughs in the immediate area, but when I would ask neighbors and others around town about bass fishing, I'd get the strangest looks, and was told that there was pretty good crappie, perch, and shad fishing locally in mid-summer, but no bass.  Yikes!  I just couldn't buy into that. If there were crappie and perch, there had to be bass – right?
So one day in May, I put the chest waders on and decided to have a go at it.  I started in a back-water area just downstream from the Rainier/Longview bridge.  I started out with a Mepps spinner cause of the crappie stories, and guess what?  That's right, I started catching some really nice-sized crappie.  However, I started catching a few largemouth bass too, and really nice ones at that.  Now, when I say nice ones, I'm talking 3 to 5 lb fish, and on a Mepps spinner to boot!  Wading in country that had no bass?  Well, that's all it took.  Over the next several times out, I armed myself with some bass gear including a few spinner baits (still a pretty new lure out here then), weedless jigs, plastic worms, and crank baits (although we didn't use the term crank bait as of yet.)  I was now a lower Columbia River largemouth bass fisherman – not!
Everywhere I was wading, I was always seeing big crawdads scurrying along the bottom, and the bass I cleaned (catch and release? – never heard of it!) were always full of these big ol' crayfish.  As a note, the crawdads were so big (averaging around 6 inches long) and so abundant, that commercial trapping for them in the Columbia was a pretty big business.  Commercial trappers would tie off a rope to a log boom piling, attaching as many as 20 to 30 baited traps.  The trappers would return to empty their traps, (about twice a week), into wooden boxes full of ice stacked in their truck beds.  Most of their catch (several hundred pounds) was headed to their biggest customers in Sweden and Norway.
Later, when I got a boat, I would routinely set my own trap out the first thing in the morning, in about 10 ft of water, and then when I was done fishing I would go back and raise the trap and would usually have a dozen or so crawdads up to about 9 inches long to take home.  Wow, that made up for those days when the fishing wasn't all that great.
Based on what I was seeing, I put together some brown and orange vinyl skirts on my spinner baits, which turned out to be the "cat's a…", and the jig and Uncle Josh pork combo imitated these crustaceans perfectly.  We didn't have the neat silicone or even the really nice grade of rubber skirts then, so you had to live with vinyl, which at the time seemed just fine since we didn't have any better.
Okay, here's a good story:  One afternoon, while wading in a back water area, I was just having a ball.  I had caught quite a few really big largemouth and had put them on a chain stinger hooked to my wading belt.  As I came out of the water and started walking back to the car, an old gent, who had been watching me, came up excitedly to me and said "mister, those are the biggest black crappie I've ever seen in this country."  Naturally, I thought he was kidding.  I laughed and said "those aren't crappie, those are bass, largemouth bass."  He kind of took offense, or so it seemed, and said "I've lived in this area for over 70 years.  Those are crappie, the biggest I've ever seen, and I'll have you know that there aren't any bass in this river."  I smiled, agreed with him, and drove home.
Now, I was really pumped as I felt like a true bass pioneer in this salmon country!
Tide water, whaaaaat?  Are you kidding me!!  I had no idea that there were tidal effects 70 miles upstream from the mouth of the Columbia – that's just ridiculous!  You mean like the St. Johns River in Florida?  Its really amazing how the age of information has changed everything, isn't it?  So, with the twice daily ups and downs of the river ranging anywhere from 3 ft to 6ft, what in the world do you do?  I thought back to the fluctuations in water level on the East side of state on the Columbia and Snake rivers due to the power dams, and how I dealt with that situation.  I was quick to learn (sometimes the hard way) a couple of things about tides in the river system.
One, you'd better quickly learn what can happen in back water sloughs when the tide goes out or you'll be left high and dry in your boat (and remember, no cell phones to call for help.)
Two, even though you had smooth sailing during the high tide, that doesn't mean there aren't going to be some wicked dead heads (and lots of them) just above and below the surface at low tide.  Remember, this is the heart of the logging industry.
I continued to fish on a regular basis, both wading and later by boat, and had such a great, great time with those largemouth.  This is going to sound crazy, but I fished for the first five years after arriving down there before i ever saw another bass fisherman.  Can you believe that?  Just crazy, huh?   And when I say largemouth bass, I also mean to say there weren't any smallmouth.  As a matter of fact, I caught only one smallie in my fourteen years of fishing those waters.  I have a theory about that…when I was first employed at the power plant, a coworker and I would go down to the intake structure at the plant and clean off the junk that had collected on the intake screens, which were used for filtering large debris from the river.  The water would be subsequently used as a source of cooling water in the power plant.  I always enjoyed this part of my job because the screens collected a lot of crawdads.  Once I gathered up the crawdads, I'd take them back inside to our small little kitchen, put them into a large glass beaker, and boil them for my lunch!!
Well, one time when I was cleaning the screens, I found a couple of small (about 4 inch) walleye.  I  contacted the Oregon warm water biologist about my discovery. He said they must have been some other fish species because there weren't any walleye downstream of The Dalles dam.  I couldn't convince him that they were walleye, and I didn't keep them to prove it.  But I knew.
About 10 years after I left the lower Columbia area, maybe in the later 90's, the walleye started going crazy in this area, as did the smallmouth bass.  However, the largemouth had nearly disappeared.  By the way, there are now walleye fishing clubs in this very area.  I believe this is very similar to what happened in the main stream Columbia in the Columbia Basin.  Until about 15 to 20 years ago, it was very common to catch largemouth bass throughout all of the Columbia River system, not just the far backwater reaches.  My personal opinion, from my experience, is that the huge populations of walleye and smallmouth are controlling the minnow populations in the river.   I don't understand why the largemouth are so affected and unable to compete.  After all, they seem to mix and do just fine in other areas of the country such as the upper mid-west.  Confusing.  I think it may be tied to the reduced bluegill and crappie populations, not only in the main river, but consider what has happened in Scooteney, Moses Lake, and the Potholes.  Maybe the LM will come into balance and reestablish later on, but I'm not sure.  One heck of a coincidence though.  Any thoughts?
Fishing for Largemouth:  It took a few years before I could settle into patterns that were successful when fishing for largemouth throughout the lower rivers of the Columbia and the Willamette River.  The lower Willamette River, by the way, flows into the Columbia at St. Helens, and is most often referred to as the Multnomah Channel. It is most famous for its terrific spring Chinook salmon run.
The most distinguishable bass structure in this region may be the wooden pilings used to secure the log booms located all up and down the Columbia and Multnomah Channel.  As time passed, I settled in on the fact that vertical structure was the key to the larger fish here.
These pilings provided me with my most consistent bass catches day-in, day-out.   I fished three basic types of lures of which I had a tremendous amount of confidence in:  the old Bomber crank baits, (no longer made), such as the frog colored one pictured below, were by far, the best crank baits I used in this area.  Was it due to its crawdad action and lip?  Maybe so.
Single-bladed spinner baits with a pretty large Colorado blade and a 6-inch curly-tail trailer was, without a doubt, a winner down there.  Water clarity in this section of the Columbia is never all that great due to the tidal effect, which washes mud into the water during an out going tide.  The single Colorado blade and trailer created just the right amount of turbulence to get the largemouth's attention.  Yo-yoing the spinner bait around the pilings was the ticket!
The third bait I relied upon was the original jig and pig, using Uncle Josh pork frogs.  After Dee Thomas popularized the art of "flipping", I became a huge fan of this technique.  It replicated the crawdad like no other lure could (in those days.)  I was always flipping those jigs, rigged on Dacron line, down the sides of those pilings.
The fifteen or so years that I fished the lower Columbia were incredible.  These years increased my knowledge and understanding of bass fishing like no other area has ever done.  I fished about 50 miles of river and sloughs from Portland downstream almost to Astoria.  This area and time will always have a special place in my heart, and I would encourage all of you to spend a little time exploring this area of our great Columbia river.